'The emerging Irish companies set for global success'
We were delighted to be listed recently by the Business Post amongst Ireland's 'Hot 100 Startups'.
2021 has been a great year for the business, we started the year by being featured as a ThinkBusiness.ie  Startup to Watch in 2021, alongside some of Ireland's best and most ambitious entrepreneurs (https://standardaccess.co/standard-access-featured-among-irelands-top-startups-to-watch-in-2021/). Then, after a long five-year battle, we finally secured a US patent for our proprietary access control systems for smart buildings – both residential and commercial (https://standardaccess.co/siliconrepublic-standard-access-wins-us-patent-for-its-building-manager-tech/).
In response to the market, the Standard Access team  successfully developed an end-to-end smart building operating system that encapsulates all the critical metrics, from energy performance, user comfort and space optimization, right through to pandemic-responsive solutions. This includes indoor air quality monitoring and keeping a real-time headcount of people in a room or building at any given time. Compliance with social distancing and mask wearing are also amongst the new features available to building owners and operators (https://standardaccess.co/the-increasing-need-for-touchless-technologies/). We educated the industry on the technology solutions required to deliver on ESG metrics (https://standardaccess.co/real-estate-technology-supporting-esg/) and helped co-working hubs with IoT integration issues (https://standardaccess.co/technologies-enabling-co-working-hubs/).
As awareness of cybersecurity issues for smart buildings started making headlines(https://standardaccess.co/how-smart-buildings-can-fall-victim-to-a-cyber-attack/), our team empowered the real estate community to understand the issues and best course of action through our Securing Smart Buildings series (part 1: https://standardaccess.co/securing-smart-buildings/, part 2: https://standardaccess.co/cybersecurity-for-real-estate-securing-smart-buildings-part-2/, and part 3: https://standardaccess.co/cybersecurity-for-real-estate-securing-smart-buildings-encryption/).
Prior to the pandemic, the real estate industry was already on the cusp of massive transformation, driven primarily by digitisation and decarbonisation, and Covid-19 has accelerated this transformation. Here at Standard Access, we are delighted to have played such an important role in recent years and we look forward to working with clients to tackle whatever 2022 throws at the industry!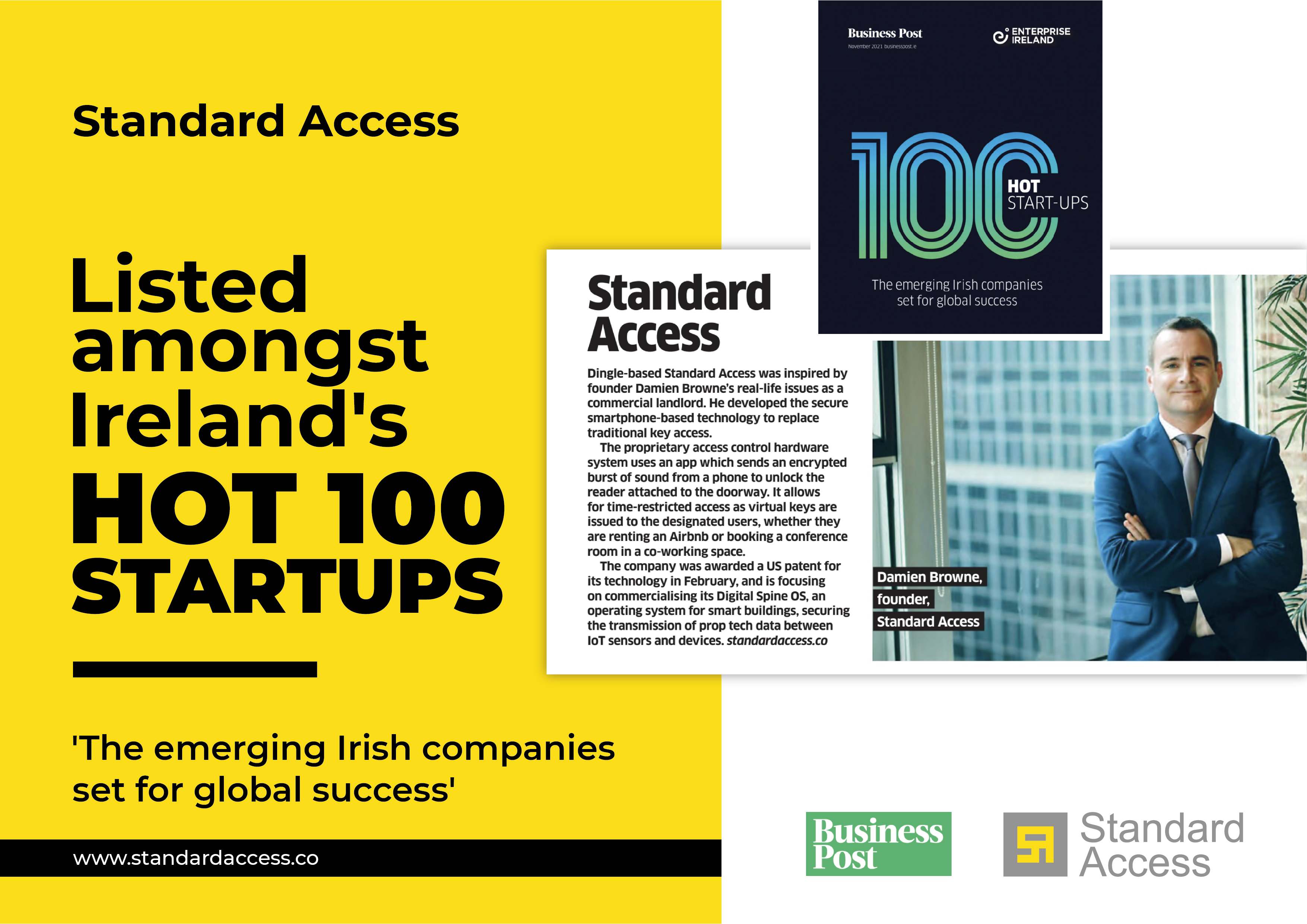 About Standard Access:
Established in 2014 by Damien Browne, Standard Access is the global leader in IoT digital spine secure data transmission for smart building technologies, providing solutions for contactless building access through the patented Sonic Handshake®, along with a suite of AI-enabled solutions for building owners/operators and their tenants. www.standardaccess.co