About Standard Access
Standard Access is focused on the commercial environment and investing in gaining a deep understanding of clients needs in order to build robust solutions to solve the day to day challenges business face in managing secure access.
The Sonic Handshake® is relevant in any business with doors and people with the need to make managing secure access easy, cost effective and user friendly.  It eliminates the need for keys, FOB's and Key cards and the cost associated with changing locks. It improves security; the end user experience; processes and can add value to your business model.
The Sonic Handshake® is an Easy way to Manage Secure Access.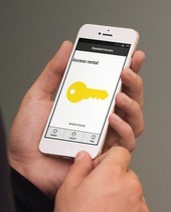 Chris Byrne
Mentor
Sold his previous software firm Cashbook for $60 million
CEO of Sensorpro, clients include Ben & Jerrys, United & Apple

Mark Reynolds
Strategic Lead
Director Savills Ireland
€1billion of transactions of behalf of Kennedy Wilson & Lone Star among others

Hugh Friel
Lead Advisor
Former CEO of Kerry Group PLC (KYG)
Current member of Trilateral Commission.